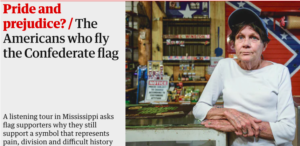 After my Guardian feature published this morning on why eight Mississippians like (or don't mind) the Confederate flag, several people questioned my use of the word "harsh" in this sentence near the top of the story: "After the north won, it imposed a harsh Reconstruction on the south that still fuels white resentment today." Those people clearly thought I was judging Reconstruction as "too harsh." Had I meant to say that, I would have said it more directly, but that is not what I meant. I was using the word in a more general way, meaning rough or uncomfortable, as in a "harsh" winter when I should have said something like, "white southerners believed Reconstruction was too harsh and still resent it," with links. My strongest opinions about Reconstruction have always been about the way it ended with white southerners regaining the ability to have free rein to re-create deep structural inequality and horrendous conditions for African Americans in my state and beyond at a time when the South should have been turning a new direction.
However, I do get their point of why my word choice was misleading and can give the wrong impression and see it as fair criticism. Today, "harsh" is often used to imply that something is too extreme—as in "harsh discipline"—and my intention wasn't to insert a misleading value judgment there. My purpose in this story, as assigned and as I envisioned it, was to talk to people who like the Confederate flag to hear why they still fly or support it, in their own words and not in a debate (as I have done many times with flag supporters over the years). I then factchecked their historic references and reasoning and asked black Mississippians to respond to their statements.
But the concerns create an opportunity to talk more about Reconstruction and share sources for those who wish to read more (and you're welcome to provide more links or thoughts in the comments or to me on Twitter @donnerkay). This story was meant as a learning journey, and I hope to continue it however possible. I appreciate those who have brought this up, as well as provided some links they recommend about Reconstruction when I suggested it.
I'll start close to home for historic grounding with the Mississippi Archives and History post on Reconstruction, which divides it into "Presidential Reconstruction" and "Radical Reconstruction" (it also talks about the Black Codes, so click the link if you're not familiar):
Being the center of slavery and cotton culture, heavily agricultural places such as Mississippi seceded first and returned to the Union last. Planters, who had produced cotton for the world market, emerged from the Civil War in a state of shock. They had enslaved their workforce for generations. After emancipation and Confederate defeat, many white Mississippians still thought they had been right to own slaves and secede from the Union. This position, within a state where the population was 55 percent black, foreshadowed a difficult Reconstruction.