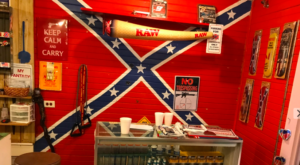 When my Guardian editor asked me if I would be interested in roving around my home state of Mississippi and talking to people about why they like the Confederate flag, I jumped at the chance. It is no secret that I am not a fan of the flag, and would like to see the state flag changed, but I also believe in listening to people's reasons, which are seldom as monolithic as we think they are, and placing them a wider context where possible. I also asked my editor to allow photographer Kate Medley to come home to Mississippi and travel with me. I've worked with Kate on projects related to race and Klan violence in the past, and know that she also leads with genuine curiosity rather than judgement in interviews.
We ended up interviewing eight people for this story who liked the flag. I had met two of them—Lindy Isonhood and Thomasa Massey—in advance of the interviews, but had not discussed the flag with either and, thus, did not know their reasons. Someone recommended that I call Larry McCluney Jr., but I didn't know that he was an officer in the Sons of Confederate Veterans until I arrived for our appointment. We found Kevin Davis, Roslyn Stuart and Joe Barnes by driving around the state looking for flags, and one thing led to another. Thomasa unexpectedly brought her friend Evangela Hentz because they were having dinner together that night, and I met Lindy's husband, Ira, at their home(s).
At the end of the whirlwind tour—where I collected a few chigger bites just like I did back in 2005 when Kate and I traveled with Thomas Moore looking for justice for his brother's death (and helped him find it)—I was struck by the differences in the reasons of the eight people, despite some overlap. I felt like the various reasons—honoring ancestors who fought in the Civil War, pride in the face of poverty, it represents who Mississippi is, anger at the north over "lost cause" of war and Reconstruction, state's rights, school pride, tradition, the need for a proud heritage and, yes, some clear inherited disdain and/or disrespect of black people—is a pretty fair representation of the reasons I've heard articulated all my life. That, and the one Benny Ivey explained to me in my earlier Guardian piece about him: straight-up f-you rebellion against Yankee condescension.
My overwhelming takeaway from the tour was (at best) that many Confederate flag fans, and especially those who want the Mississippi flag to stay, are not taking concerns about the "heritage" the flag represents for black citizens as seriously as their own need and desire for it to officially honor their own histories. That position inherently elevates the concerns of white Mississippians who like the flag over those black neighbors (and others) who are hurt by it.
Personally, beyond my pain at the pain it causes to black Americans and Mississippians, the flag hurts me personally in part because the war and cause it represents harmed our state deeply and still does, and my own ancestors paid a high cost for their misguided support of a war to maintain and extend slavery. And I don't think treating the Confederate battle flag as a tchotchke is particularly respectful to the horrors that war brought to the North and the South to people of all races.
Not to mention, the state flag sends a message about my home state that I desperately do not want to be true any longer. I'm often told that I "live in the past" when I talk about this history, but what is the continued embrace of this flag, especially as a state emblem, if not living in the past? Like Derrick Johnson of the NAACP, I don't want the flag banned, but I would like to have a Mississippi flag that represents everyone with equal respect and dignity—one that applies the "do unto others" teaching that I heard so much growing up in Mississippi.
In many ways, the flag tour was depressing due to the deep division it represented, but I'm still left with hope that there is a way to intelligently talk about these issues, and teach the real and full history, as a way to improve our state for everyone who lives in it. And I refuse to believe that's impossible as both a native and a daughter of the Confederacy multiple times over. I do not have to excuse or honor the beliefs of my ancestors, even as I can mourn for the tragedies they and the entire nation endured due to a horrendous instituation. My goal is to learn from this history and urge others to as well.
There is more love than hate waiting on the other side of this divide, but we have to get there. That takes knowledge.