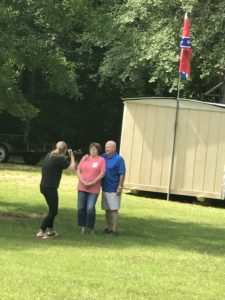 I reached out to Lindy Isonhood for my Confederate flag story in The Guardian after seeing a documentary about her at the Crossroads Film Festival in Jackson. She had sat on a jury that had ordered the execution of a convicted murderer and later had a change of heart. Years afterward, she traveled the state, with the documentary maker, to visit the other jurors to talk to them about it. A shorter version of the doc is now on PBS.
While watching the doc, I saw a Confederate battle—the original Robert E. Lee flag, not the Mississippi flag with it as the canton—in the couple's backyard. Nothing was said about the flag in the film, but I remembered it and reached out to her later once I had this assignment. As she is now a 66-year-old white woman from Mississippi who had changed her mind on a conservative pro-death penalty stance, I was intrigued to learn why she and her husband still fly the real Confederate flag.
At their homes—we visited both properties in different counties mainly so Kate could get a photo of the flag, which is at the home they call their "retreat"—it became clear that Ira was more devoted to the flag than Lindy seems to be. He had attended Forest Hill High School (then all-white) in Jackson and then Ole Miss. Then both used the Confederate battle flag, often called the "rebel flag," as their official emblem.
Ira said the flag was important to the state's history, but didn't really seem interested in specifics of that history. Lindy was fairly ambivalent about it, but saw no reason to change the state flag. On our second visit, she seemed more interested in learning more about the history and why I am not a fan of it, as I report in the Guardian piece.
"Well, I think it's part of history. It should stay. But if they changed it, I wouldn't really care," Lindy told me the first day.
Both Lindy and Ira told powerful stories of scenes they remembered from their youth without hesitation. As I report in The Guardian, Lindy talked about the "hanging tree" and Ira about his father being racist toward a black woman customer, but also allowing black people to watch basketball games through the window of his house. But there were stories I didn't get into the story. Lindy's father took her in the back of his pickup truck to a Ku Klux Klan rally, she said, where she played with other kids during fiery speeches and next to bonfires, although she remembers no Klan robes or burning crosses. After they left, her father told her he would never go back.
She also remembers men pulling her father over and trying to get him to join a lynch posse because a black man had shot a white man for messing around with his wife, among other such stories. "I remember a man and some young man in Yazoo City beat up a black boy and threw body in the river in 1965, '66. There was all this stuff," Lindy told Kate and me in their living room in Yazoo County.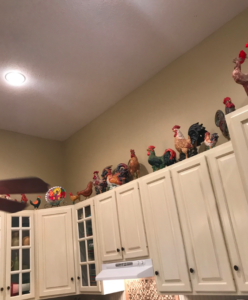 Lindy also remembers white people keeping locations of proms secret after schools integrated so black people wouldn't know where they were. (When I was a senior in high school in 1979, we had a school banquet and then separate dances with whites going to the country club. They had stopped having proms after schools were forced to integrate in 1970 so blacks and whites wouldn't dance together—seriously a taboo in Mississippi then.)
Ira, who was in the military for 34 years, says a CIA agent came to his home—now the retreat they call Deer Hollow—in 2001 or 2002 to update his top-secret security clearance and saw the Confederate flag in his backyard. The agent, whom Ira called a Yankee, mentioned the flag. Ira says he thought the agent thought was in the KKK. "It was the first thing he zeroed in on," he told me.
He thought he would lose his clearance for sure, but six months later, he got his renewal.
I asked Ira and Lindy what should happen now with the state flag.
"To me, it's already happened," Ira said. "They put it on the ballot to be voted on by everybody in Mississippi. … It was just on the ballot a couple years ago."
"That was in 2001," I said.
"Woo! That was a long time ago!" Lindy said.
"I hadn't realized it was that long ago," Ira said.