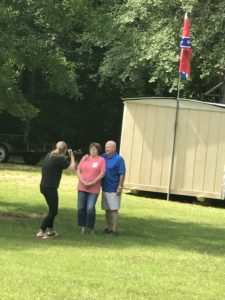 I reached out to Lindy Isonhood for my Confederate flag story in The Guardian after seeing a documentary about her at the Crossroads Film Festival in Jackson. She had sat on a jury that had ordered the execution of a convicted murderer and later had a change of heart. Years afterward, she traveled the state, with the documentary maker, to visit the other jurors to talk to them about it. A shorter version of the doc is now on PBS.
While watching the doc, I saw a Confederate battle—the original Robert E. Lee flag, not the Mississippi flag with it as the canton—in the couple's backyard. Nothing was said about the flag in the film, but I remembered it and reached out to her later once I had this assignment. As she is now a 66-year-old white woman from Mississippi who had changed her mind on a conservative pro-death penalty stance, I was intrigued to learn why she and her husband still fly the real Confederate flag.
At their homes—we visited both properties in different counties mainly so Kate could get a photo of the flag, which is at the home they call their "retreat"—it became clear that Ira was more devoted to the flag than Lindy seems to be. He had attended Forest Hill High School (then all-white) in Jackson and then Ole Miss. Then both used the Confederate battle flag, often called the "rebel flag," as their official emblem.