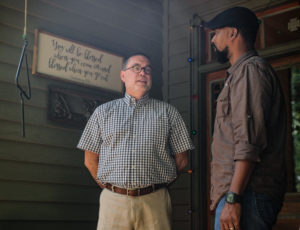 Fact: White people in America, and beyond, are raised in white-supremacist cultures. Some are lucky enough to grow up in households fighting that socialization and become part of the solution. But many are not. Many of us have to, first, acknowledge the racist machinations of our families, childhoods and communities—and then we have to do the hard work to change it and to understand the full breadth of racism, far beyond interpersonal reactions. Being well-meaning simply isn't enough; being arrogant enough to think you're above it—looking at many of you progressives here—is especially unacceptable.
When my Guardian editor, the wonderful Jessica Reed, read my final draft of my profile of Benny Ivey, a former white-gang leader in Mississippi who decided after two decades in prison to change his life, she was struck that he had taken his Confederate flag down by the time our (black) photographer visited so he wouldn't hurt him. She then asked me to interview Mississippians who still like the Confederate flag, which I did, also factchecking their reasons. After that piece published, a black Mississippi friend told me I should interview white Mississippians who had changed their views. Jess immediately gave me the go-ahead, understanding that while we need to interrogate the reasoning behind Confederacy fandom, we also need to spotlight people who have confronted the racism they were taught, which I did here for The Guardian.
It might surprise people to know that it took me less than 24 hours to find multiple white people who were ready to talk to me about their journey from what I call their "racial miseducation"—often through revisionist "lost cause"-filled textbooks—and/or oblivious upbringings, in one way or another. I grew up in Mississippi, and after I returned from exile 17 years ago, I started a newspaper that has explored racism in its various forms deeply here, building trust and a wide and diverse network of people that, frankly, national media often do not know exist or how to talk to. They end up missing from the national narrative.