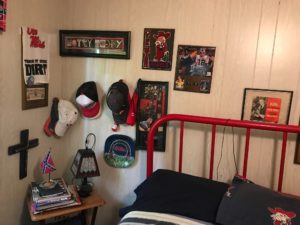 We didn't see the caves coming. On our first day of our Mississippi road trip in May 2018 to talk to people about why they fly the Confederate flag, Kate Medley and I were having trouble finding flags in yards. In fact, we were driving up and down Jefferson Davis Street in Greenwood, which seemed an obvious place to start, peering inside open garages from the street to see if we could spot either a Mississippi or Confederate flag. But, nada.
As soon as we arrived for our nearby appointment with Larry McCluney Jr., he ushered us immediately into his attic, which was filled with Confederate items—even a North-vs.-South chess set, among his ancestors' photos, Confederate flag curtains, re-enactor costumes, books and Civil War Stratego game. We were surrounded by more Confederate emblems than we could take in all at once.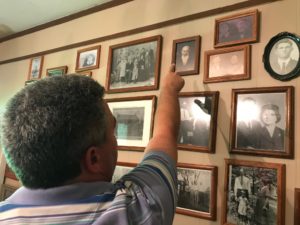 The next morning, we visited Ira and Lindy Isonhood in their "retreat" home, where we saw his man cave—with animal heads, a gun cabinet and lots of Ole Miss and Colonel Reb memorabilia. There seemed to be a folded Confederate flag on the shelf, but of course his big flag was flying out back.
It wasn't until we left teacher Kevin Davis' home that we had detected a pattern. It wasn't apparent at first. Davis didn't even fly a Confederate flag in his yard, although he's a fan of it. But as we were saying goodbye, he suddenly said he had something to show us. We follow him back into his study where he entertains genealogy visitors. "You've been holding out on us," Kate said, smiling as she pulled out her cameras.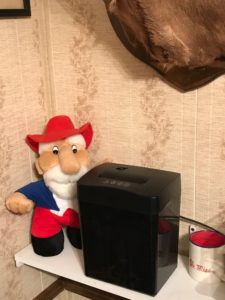 The room wasn't as flagged up as McCluney's, but he has a large "Stainless Banner," the 1863 second flag of the Confederate States of America—the Mississippi flag without the three stripes—and a few versions of the iconic Robert E. Lee flag (the Confederate battle flag) scattered around, including on a mug. The walls are covered with old framed photographs, and he points one-by-one to ancestors with beefy mustaches and long beards who fought in the war, the first one with photography.
After we left, Kate mentioned all the "Confederate man caves" we'd seen so far—every man we'd interviewed had one. That wouldn't change with the last male flag fan we found. As soon as we walked into his home in Seminary, Joe Barnes showed us his back guest room. It had more of a sweetness feel to it, with toy Colonel Rebs and various Ole Miss memorabilia. (He stopped going to Ole Miss games after they banned the rebel flag, but still watches on TV.)
Kate was right: Four men interviewed, four Confederate man caves—and it was their idea to show them off to us.
Thinking back on it, I recalled what Roslyn Stuart had said to me at the Flag Heads store in Seminary, which is filled to the brim with rebel-flag schlock.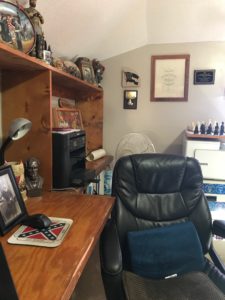 Stuart told me that many Confederate and Mississippi flag supporters are no longer openly flying one, choosing to hide them on their back porches and decks, especially since the picture of murderer Dylann Roof emerged holding one, re-igniting the movement to remove the Confederate emblem from the Mississippi state flag.
Or, they keep them in their guest rooms, it seems.