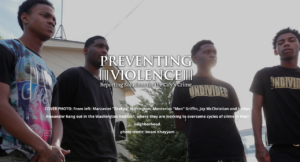 In 2015, both I and my small-but-bullish reporting team decided to really double down on coverage of youth crime in Jackson and how young people are policed. We wanted to look at the evidence behind the enforcement strategies and do solutions journalism on current and potential intervention strategies. The work in Jackson, Miss., built off work I had started in New York City in early 2015 for The Guardian on the NYPD and its attempts to adopt "smart policing." Two John Jay College of Criminal Justice fellowships and two Solutions Journalism Network grants helped this work happen, leading to dozens of long-form articles, shorter news pieces, opinion columns, public events and in-depth video interviews, all posted at jfp.ms/preventingviolence.
In the last two years, the ongoing work introduced a variety of new potential solutions to violence in Jackson, and the way crime has long been sensationalized here, several of which have been adopted or are being discussed by public officials. The work also won multiple awards from the Associated Press, the Society of Professional Journalists (south) and the Association of Alternative Newsmedia.
Working with Jackson-based photographer Imani Khayyam for the Jackson Free Press and now The Guardian—whom I call my partner in crime prevention—then on staff and now freelance, I contributed the first two long-form pieces to the series, and later several other pieces. I'm particularly proud of the first two long-form stories, which explored the realities and hunger of a group of young men in the Washington Addition and exposed that police had simply left off the services component of program it received funds to do, focusing only on massive enforcement.
Here are the first two stories:
A Hunger to Live: The Struggle to Interrupt the Cycle of Violence
Ceasefire in the City? How Police Can (and Cannot) Deter Gunfire