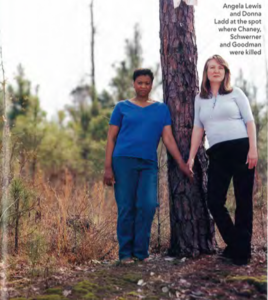 No, I wasn't featured in Glamour because of my, well, glamour. Magazine writer Sheila Weller found me when she was determined to do a story about women somehow connected to the 1964 Klan murders of James Chaney, Andrew Goodman and Michael Schwerner in my hometown—by men that my family knew, as I've written about many times because, yes, I do believe in "dredging up the past."
The most powerful part of the experience was meeting James Chaney's daughter, Angela, who was about my age and even a fellow vegetarian (that we Mississippi women were both vegetarians surprised the Glamour crews from New York and California no end). The day of the photo shoot had many angles to it, far beyond my feeling somewhat exploitive having my photo taken with Chaney's daughter at the site of the murders. Still, I wouldn't take anything for the experience.
Below is a PDF of the story, which won awards for Sheila Weller—who became a friend who has helped me many times, especially with connections. I also wrote this column about an argument of sorts that I and a famed civil-rights leader had with members of the Glamour crew at the site of Mount Zion, the church the Klan burned to lure the three men to Philadelphia in order to kill them.
"Two Women Joined by Murder" – View PDF.